Soulosofie [solo'so'phy] is a combination between the founder Sofie the english word soul and the notion of philosophy. The word philosophy comes from old french philosophy, via latin from greek which means "love of wisdom".
In today's throw-away society we find old and sometimes forgotten handicrafts and items, we revive them still keeping the mark of time to give them new life.
That is also the reason why there is a limited supply, and sometimes "one of a kind" of our products. They are unique. Just like you – Every item has a story.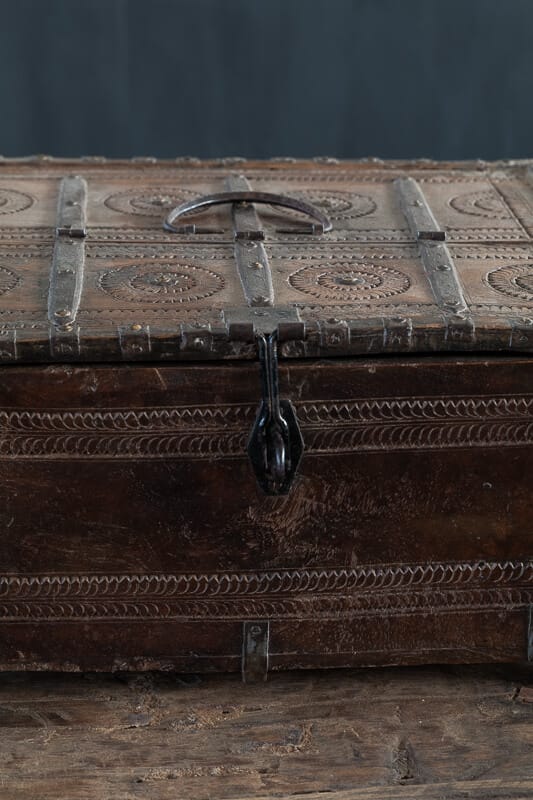 All items in the Soulosofie collection are hand-picked on site. Mostly in Rajasthan, but also elsewhere in India. It may be an old forgotten cabinet from the colonial times, or just old things and materials. The common denominator is local craftsmanship bringing new life, and many times new uses for the things we find.
To us this is the foundation of everything we do. Re-use of materials and goods, and at the same time keeping the local handicraft culture alive.
It all started with Sofies grandfather Åke Thambert, who back in 1951 bought a store located in the center of Stockholm city. The store was "Indiska utställningen", started 1901 by Matilda Hamilton a Swedish missionary in love with Far East and India.
Over the years Indiska grew to become a family owned retail chain throughout the Nordics with around 100 shops.
Sofie grew up with Indiska – a family member present at breakfast, lunch and dinner and all the time in-between. She felt privileged, and went all in on the family business at the age of 15. In the beginning during weekends and spring breaks, but as soon as she graduated it was full time.
A choice of life, a lifestyle way beyond working nine to five. During her 33 years in the family business she worked with everything from gift-wrapping and warehouse logistics to negotiations and production meetings with suppliers. The last nine years Sofie had the overall responsibility as CEO.
When the family sold Indiska in 2016, Sofie wasn't done with India. Suppliers, long-term friends, the love for Indian culture and all beautiful things were still there.
In 2016 SOULOSOFIE was born – a new family member.
To Sofie it was important to keep the family feeling, doing business with both heart and mind. To secure this, a sourcing company in India was formed in partnership with Jayan Nair – a long-time friend and partner. And a few since long trusted suppliers were selected to form the Soulosofie offering.
In the beginning Rickard (Sofies husband) acted as a sounding board at the kitchen table, keeping his job in marketing and communications. But as Soulosofie grew Rickard was captured by the Soulosofie soul, and in 2019 he went full time in the Family business.
Since then, we share the passion for handicraft and the people creating sustainable and beautiful products –all with their own unique touch and history.
An assortment where every item has a story
Family
"An inclusive family feeling for partners, suppliers and customers."
heart and mind
" a strong belief that its possible to do business with both heart and mind"
Sustainability
" A passion for re-use, handicraft and the people creating sustainable and beautiful products."
Handpicked
All our products are handpicked by ourselves at site in India.
custom made
Search assignments, looking for and refurbishing according to personal specifications.
projects
Custom made combinations of products to match a specific vision.
For those who recognise beauty in the imperfect, Soulosofie is an inspiring place. Stepping inside their warehouse at Son Bugadelles you can feel the warmth generated from natural materials and expert craftsmanship.
Our intention is to revitalise old things which have been forgotten and find them a new home.
The style is very much old Indian soul meets Scandinavian simplicity.